9you.com was established in Shanghai in April, 2003. It was the first generation Internet game operation company in China.

Since its establishment in April 2003, 9you has imported many classic music and dance simulation games, such as 'O2JAM' and 'Audition'. 9you was the first company holding the record of 'million concurrent users online at the same time' in the music and dance simulation games industry. 9you took the lead in discovering commercial mode and quality management of music and dance simulation games.

9you imported 'SD Gundam Capsule Fighter' in December, 2008. Six years later, another two Gundam games, 'SD Gundam Operations' and 'Gundam Online' were imported by 9you. 9you is the IP licensee, joint developer and operator of the Gundam series game in Mainland China. At the same time, the casual online games independently developed and researched by 9you, such as 'Super Dancer Online' and 'Monster Forest Online', have already been exported to 42 countries and regions in the world including North America, Europe, Southeast Asia, India, Taiwan and Hongkong.

Since 2012, to meet the new trend of mobile game development, 9you start into the liscense and buyout business of game IP of high qualities, as well as research, development and publishing of Mobile games out of 9you's self-owned IP. After two years effort, with extreme concept of Internet game and market infrastructure, 9you together with Momo published 'Audition' mobile version series, 'Momo Audition', which got No. 2 on the APP ranking list. The follow-up publishment and success of mobile IP products such as 'Yi Ji Dang Qian', '520room' have helped 9you complete the transition and upgrading to mobile Internet game.
About 9you

Management Team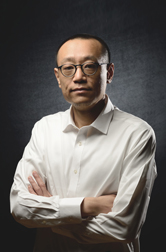 Gu Yi, CEO
 Gu is one of 9you cofounders. He joined 9you in April, 2004. He used to hold many important positions including CTO and COO. He has led operations of many important products of 9you. Gu officially became the CEO and started to take responsibility for all the operations in early 2013.

Since becoming the CEO, Gu has actively expanded traditional games business, for example, Successfully introduced two classic Japanese anime Gundam series games, 'SD Gundam operations' and 'Gundam Online'. On the other side, Gu has led the team entering the mobile Internet field, and has brought out a series of famous mobile games such as 'Audition' mobile version, 'Momo Audition', '520room', 'Jiang Hu Lun Jian', etc.

Management team
  9you owns an industry leading, fully experienced executive and management team. The majority of the senior management and technical backbone are the first generation gaming industry workers in China. They have more than 10 year's industry experience and an average of 7years' experience in 9you.

Through 12 years development, the executive and management team of 9you has formed a team combination including highly tacit data management team, music dance game research and development team, Gundam series game operation centre, as well as 9you customer service team.

The management team has accompanied with 9you in Internet game market of China for 12 years. Since 2013, the team again has set up new standard for the company future and also for the Chinese online entertainment industry: A successful transition into mobile Internet game industry.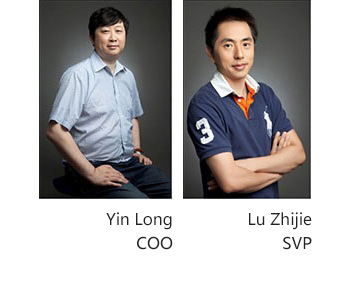 Customer service:
9you customer service centre is always based on users' needs and regard users' experience as core. On the basis of ISO9001 quality management system, the customer service team has applied several management techniques including TTT、BSC、SIX-Sigma. They also have set up service system for VIP customers, and established the service platform for mobile devices to implement one-stop 'Micro service'.


9you Products
Gundam games
'SD Gundam Capsule Fighter', which gathered all the mobile suits appeared in Gundam series anime, is an exciting Gundam battle game. Large number of mobile suits, colorful arm and abundant skills, together with luxurious transformation and ultimate skill, make the players feel the unprecedented pleasure!

'SD Gundam Operations' is an online card game operated by 9you. It has exquisite picture and simple rules. Players can use all the mobile suits that appeared in Gundam series anime to fight against enemies. Plentiful battle modes and cards drawn system provide excellent webpage game experience to players.

'SD Gundam Operations Tablet' is the mobile version of SD 'Gundam Operations'. The portability of mobile devices makes players able to enjoy the game anywhere anytime.

'Gundam Online' is a Third Person Shooter (TPS) game operated by 9you. The game allows more than 100 players fight in the same battle. It brings the biggest scale of war experience in history and veritably reproduces the battle field in original Gundam anime. All the classic mobile suits will appear in the game. Synthetic strengthen of mobile suits and multiple weapons collocation will bring endless fun to players.
Music and dance games
'Audition', since operated in 2005, has gathered a total of more than 500 million registered users. "Audition" continues to uphold its stylish classic charm. It keeps attracting a large number of users to play it.

'Audition3' is the third generation product of 'Audition' series. The game inherited the gameplay in previous generations, as well as adding in the latest fashion factors.

'Audition Mobile' is a music dance game which Integrates music, social communication and simulation. Players can not only experience the fun of music dance game, but also can collect massive clothing optional collocation to create fashion game model. At the same time, the game provides multi-dimension interaction. 'Audition mobile' is designed to match publishing on all kinds of social media platform.

'You Can Dance' is a new era dance community with stunning picture experience. It was independently researched and developed by 9you alone. The game provides high level of community interaction. The varieties of functions and modes can bring abundant game experience to players.

'Super Dancer Online' is the world first online dancing blanket game. It was researched and developed by 9you alone. Since operated in 2006, Super Dancer Online has gathered a total of more than 40 million registered users. At the same time, it also has high popularity in foreign markets
Webpage & mobile games
'520room' is the only official authorized mobile game of the popular urban sitcom 'ipartment'. The game is based on the TV series as the background. It combines many kinds of class game, anime and American hero film theme. By implementing time traveling, which is the most popular form, the Characters will be placed into many different scenes. The chaos of parallel world fighting is the highlight of the game features.

The generals in Three Kingdom now incarnate as all types of beauties. In this fictitious world, players, as the only lord, will create new legend with the generals.

'Momo Audition' is a music dance mobile online game. It is co-produced by 9you and Momo. The attractive game features include individualized cute 3D avatar, detailed characters, smooth body action and arbitrary collocation of fashion and personality ornaments

'Jiang hu lun jian' is strategy card mobile game adapted according to the movie. It combines the martial arts and modern cute love story. The game characters are funny and meaningful. The battle is interesting and surprising. The exciting fight experience makes players cannot stop. Come to conquer, the Arena will be dominated by you!

'Parkour' is the first speed online game using Parkour theme. Different from traditional racing games, 'Parkour' for the first time adds in environment destruction and items dodge. The anime style 3D frames, smooth action and heartbeat items give the players incredible game experience.

9you together with Toonmax Media created the highly popular animation 'Vroomiz'. The two companies quickly reached a consensus on building up deep strategic cooperative relations. Toonmax Media is responsible for pushing traditional media; 9you is responsible for making up a good Internet environment for 'Vroomiz'.
Business partners
Strategy and overseas cooperation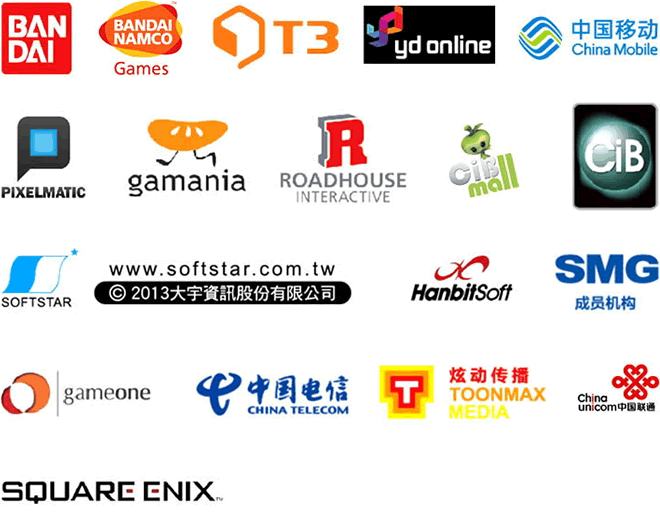 Channel and media cooperation